DAY 9: AUSTRALIA AND GERMANY TO MEET IN THE FINAL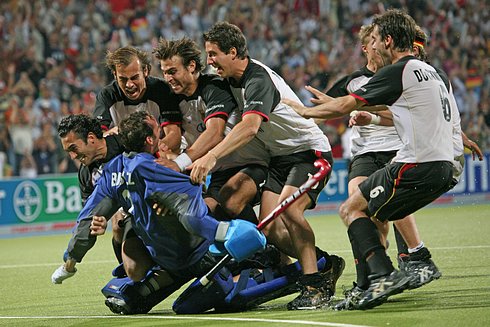 2006-09-15 • In the first match of the day England had a tough time against New Zealand, finally beating them 4:3. The Black Sticks had the better start and already led two goals up, but England scored the equalizer and in the very last minute converted a penalty corner into their entrance card for the match for the fifth place.
Their opponent will be Pakistan, as they defeated an disappointing Dutch team with 3:2. Pakistan had a comfortable 3:0 lead before the Netherlands really got into the match, at least catching up two goals.
The crowded Warsteiner HockyPark saw a strong Australian team in the first semi-final, even though the Koreans with their defensive play hat a 1:0 half-time lead. But the Kookaburras showed an impressive second half and enjoyed a richly deserved 4:2 victory in the end.
Germany versus Spain was a real thriller. Spain started strong, denying Germany any real chances in the first fifteen minutes. But the German team showed fighting spirit and tied the match, 2:2 both after regular time as well as extra time. And German goalie Ulrich Bubolz won the day for the hosts, as he saved three out of four Spanish penalties. Final result 5:3.
PLAYER OF THE DAY: Ulrich Bubolz (GER)